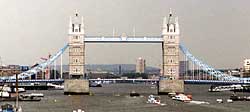 London, U.K. - June 1999
---

I went to London last summer. I took a lot of pictures. The day after returning, I started working full time in addition to going to school. I haven't had time to make all the pictures look exactly the way I want. Until I finish with that, I'm providing a simple, quick thumbnail catalog of them to share.

Fair warning though, the pictures that haven't been edited yet are very large. Several hundred K.

Enjoy!

Click here to see the first page..



---
Back to the previous page..

This page was last updated: 01 Feb 2001
Everything original contained herein is (c)2001-2006. All rights reserved

"London Photograhy" / w100113@iokui.com